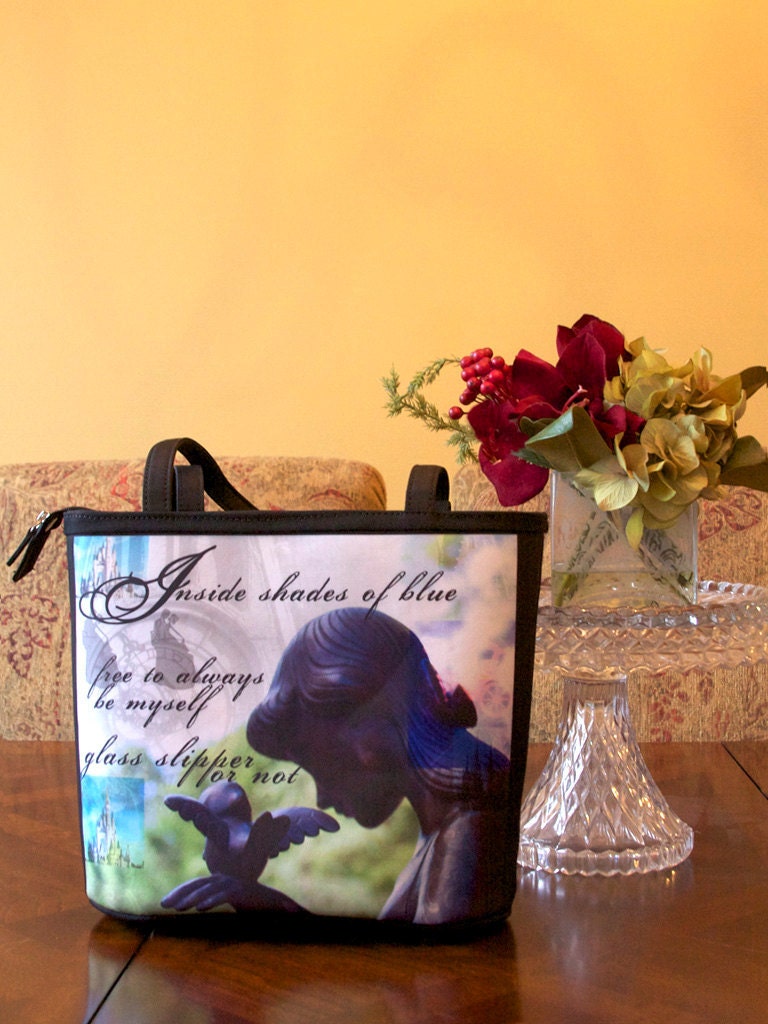 Our friends at
PixieGraph
have a sweetheart of a deal for you! Simply enter "KSWVD12" at checkout to receive a 20% discount on our "Shades of Blue" bucket bag or 20% off our custom PixieGraph custom bucket bag design service. This is a limited time offer so pick one up today!
In a quiet spot, at the entrance to Walt Disney World's Fantasyland in the Magic Kingdom, sits a contemplative statue of a young girl surrounded by a collection of her very attentive furry and feathered friends. The young girl is Cinderella. Her classic story, and the elegant statue that resides near the castle that bears her name, both serve as inspirations for the latest in the series of PixieGraph Bucket bags by Knell StudioWorks and Mouse of Zen.
The easy wearing microfiber Bucket bag features a top zipper and 24 inch straps that swing over your shoulder. The roomy interior is black, custom lined and includes an attached key fob, zipper pocket and two slip pockets for smaller items like a compact or cell phone.
Details
- Metal feet
- Top zipper closure
- Interior attached key fob
- Interior zipper pocket, cell phone pocket and mirror pocket
- 24" long, 1" wide straps are stitched into each side for strength
- Exterior dimensions are 12"W x 10"H x 5"D
For more details and to order click
HERE
.
Shipping is through FedEx groundMTFBWY!
Twitter @JediMouseketeer
JediMouseketeer on Facebook
Book your next Disney vacation or cruise with Kristen at Magical Journeys Travel!