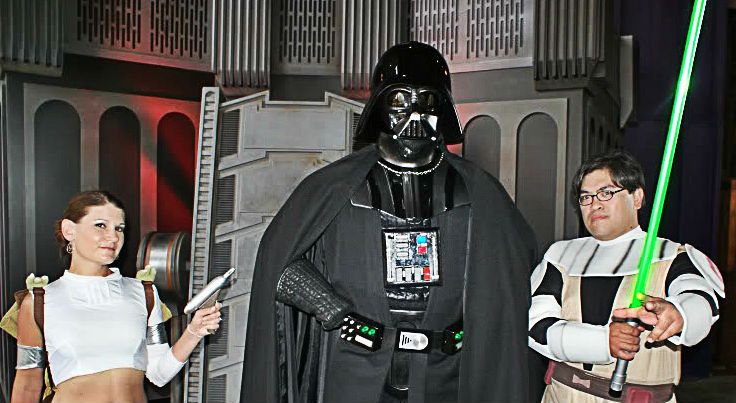 Sorcerer Radio's WDW Tiki Room show hosts Kristen and Aljon meet Darth Vader at Star Wars Weekends!
Star Wars fans - mark your calendars! The annual tradition of Star Wars Weekends returns to Disney's Hollywood Studios in 2013 every Friday, Saturday and Sunday from May 17 – June 9!
Disney Parks has also announced that "Star Wars: The Clone Wars" voice actors James Arnold Taylor (Obi-Wan Kenobi) and Ashley Eckstein (Ahsoka Tano) are returning as celebrity hosts. Taylor will be the official emcee while Eckstein will reprise her role as host of "Behind the Force," a live show that takes fans behind-the-scenes in the Star Wars universe.
2013's Star Wars Weekends may be the biggest one yet with Disney's recent acquisition of Lucasfilm and the announcement of new Star Wars Episode VII. Be sure to book your Disney vacation now with Kristen of Magical Journeys Travel by clicking on the banner below. See you there and may the Force be with you!
Follow at Twitter.com/JediMouseketeer
"Like" us on Facebook.com/JediMouseketeer
Book your next Disney vacation or cruise with Kristen Hoetzel of Magical Journeys Travel!