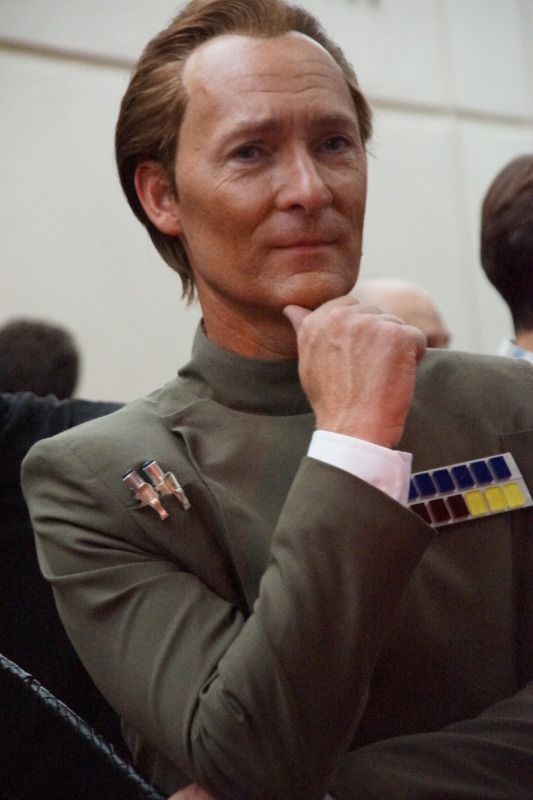 Stephen Stanton as Captain Tarkin on the red carpet for "Star Wars: The Clone Wars" - Season 5 premiere at Celebration VI. Photo by Kristen Hoetzel Photography.
Friend of Jedi Mouseketeer and Sorcerer Radio, voice actor Stephen Stanton, has voiced many characters for Disney as well as Star Wars: The Clone Wars. As of late he has also been known to do some cosplay, especially in the form of a character he voices in the Clone Wars animated series, Captain Tarkin. My wife and I caught up with him and the rest of the voice actors on the red carpet at last year's Star Wars Celebration VI and had a blast. My wife took this great shot of him posing stoically channeling the great Peter Cushing, who played Grand Moff Tarkin in Star Wars - Episode IV: A New Hope.
Peter Cushing in Star Wars
Myself, along with many other Star Wars fans believe Stephen does an awesome job looking and playing the part of Tarkin! What do you think?
Captain Tarkin in Star Wars: The Clone Wars
Well played Mr. Stanton. Well played.
Follow Stephen on Facebook for some great posts!
https://www.facebook.com/stephen.stanton.7
Follow at Twitter.com/JediMouseketeer
"Like" us on Facebook.com/JediMouseketeer
Book your next Disney vacation or cruise with Kristen Hoetzel of Magical Journeys Travel!