Coming in
costume
to
C2E2
? Why not strut your stuff for a chance to win a prize? C2E2 is presenting three costume contests for Fans to get up on stage, show off and maybe take home a prize or two. Some of the C2E2 2013 prize sponsors are
Dark Horse Comics
, SuperHeroStuff.com and
Brookfield Zoo
!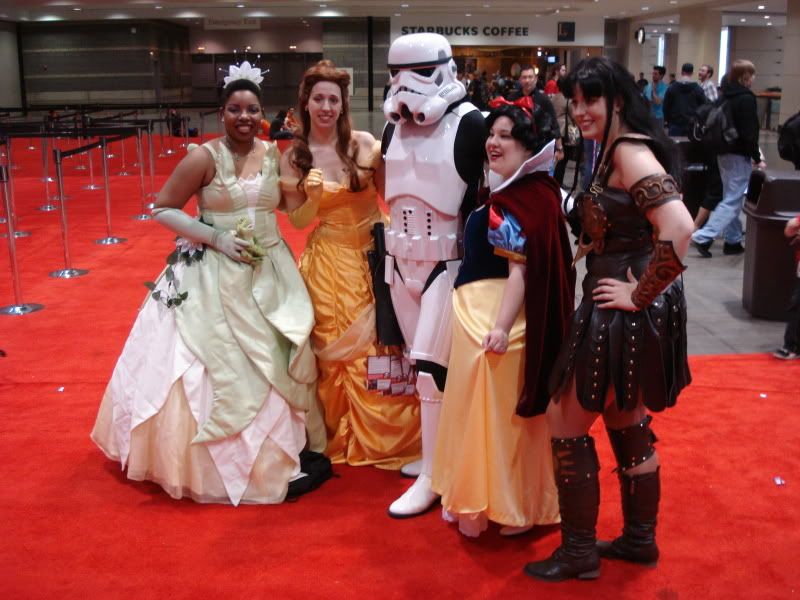 Costumers from C2E2 2012! Photo by Aljon Go
All three costume contests will take place on the Variant Stage on the Show Floor.
Friday, 5:45 PM – 6:45 PM
Saturday, 5:45 PM – 6:45 PM
Sunday Kids Costume Parade, 12:00 PM – 12:45 PM (Kids Under 12 Only)
New this year, pre-registration is required! We accepted registrations beginning Tuesday, March 19 at 12:00 PM CST. We'll be accepting Fans
first come, first served
, with the first 30 Fans grabbing up a spot to take the stage for each showcase. You may only register for one time slot.
All 3 of our Costume Contests are currently FULL. Please stop by the Variant Stage 15 minutes prior to the start of each contest to see if there is a last minute opening, but please understand chances are slim.
We will notify everyone who submitted a registration form by email with the status of your submission by April 12.
If you have any questions regarding your submission, please contact C2E2.
Jedi Mouseketeer and the Sorcerer Radio Network will be covering C2E2 2013! Read more about our live coverage
HERE
!
Special thanks to our C2E2 2013 event coverage partners:
Halloween Express
-
Take 15% off site-wide with NO minimum purchase
!
Jedi Mouseketeer
- Geeky news from universe of
Disney
,
Marvel
and
Star Wars
!
Kristen Hoetzel of Magical Journeys Travel
- Book your Disney vacation or cruise today!
WDW After Dark
- Weekly
Webcast
for
Adult
Disney Fans!
Sorcerer Radio Network
- All Disney Music, All Day Long!
Check out the listing of 2013 Jedi Mouseketeer Events and Convention Coverage!
Follow at Twitter.com/JediMouseketeer
"Like" us on Facebook.com/JediMouseketeer
Book your next Disney vacation or cruise with Kristen Hoetzel of Magical Journeys Travel!